PRISM Fatigue Management Systems
Predict and Manage Worker Fatigue In Realtime
So You Can Improve Safety & Increase Productivity
How it Works
Get Pricing
PRISM Fatigue Management Systems
Predict and Manage Worker Fatigue In Realtime So You Can Improve Safety & Increase Productivity
How it Works
Get Pricing
Real-time Notification of Acute Fatigue and Risk of Fatigue
Reduce Total Safety Incidents & Individual Incident Severity
Improve Worker Productivity, Morale & Commitment to Safety
Validated in clinical trials
70 million worker-hours tracked
Over 70 Million Worker-Hours Tracked
Validated in clinical trials
70 million worker-hours tracked
A fatigued worker is a dangerous worker, potentially even as dangerous as one who is intoxicated. Balance, coordination, and motor skills, as well as cognitive functioning, are all negatively affected by fatigue, increasing your risk for accidents and errors.
Putting Your Company At Risk
Fatigue has been cited as a factor in some of the biggest industrial accidents in history, including:
The Exxon Valdez Tanker Accident (1989)

BP Texas City oil refinery explosion (2005)

Colgan Air Crash (2009)

Deepwater Horizon oil spill (2010)

Nuclear accidents at Chernobyl (1986) and Three Mile Island (1979)
Costing Your Company Money
A typical employer with 1,000 employees can expect to lose more than $1.5 million a year due to fatigue: 
$272,000 due to absenteeism

$776,000 due to "presenteeism" (employees who are at work but not fully functional)

$536,000 in healthcare costs
Watch how PRISM provides supervisors with the power to predict when worker fatigue levels will reach the red zone.
PRISM-Monitor & PRISM-Workforce
Giving You the Power to Predict, Manage, and Mitigate Risk Due to Fatigue
PRISM-Monitor gives managers and supervisors the ability to quantify and observe the potential for and the progression of fatigue. Predict fatigue hot spots in individual workers, shifts, and departments, enabling fatigue to be quantified so it can be managed delivering safer, more productive shifts.
Delivers fatigue prediction reports at the start of each shift

 

Real-time fatigue prediction alerts are sent to every supervisor

providing the opportunity to engage countermeasures

No direct workforce engagement is required and no wearables
PRISM-Workforce engages the entire team with personalized alerts when fatigue progresses to at-risk levels. PRISM-Workforce is also the only Fatigue Management System that can assess worker alertness relative to predicted fatigue.
Works with AlertMeter® to a

ccurately asssess when fatigue has progressed to impairment

Empowers workers and supervisors to engage effective countermeasures

Has a high level of worker confidence enhancing a culture of safety
Predictive. Proactive. Proven.
Predictive.
Proactive.
Proven.
Three Steps to a Safer, More Productive Work Force
Workers take the 60-second, app-based, validated*, AlertMeter® Impairment Test. Results are analyzed and compared with a personal baseline to determine pass or fail.
Results are tracked and added to PRISM's predictive alghorythm. Supervisors are notified if worker demonstrates acute fatigue sufficient to induce impairment or when a worker is at risk for becoming impaired due to fatigue.
Armed with objective data, workers and supervisors can collaborate in employing simple, proactive, effective countermeasures so that in most cases, workers can remain on the job, safely.
Discover How PRISM Has Reduced Risk & Created a Culture of Safety at Anglo American's Kolomela Mine, Northern Cape, South Africa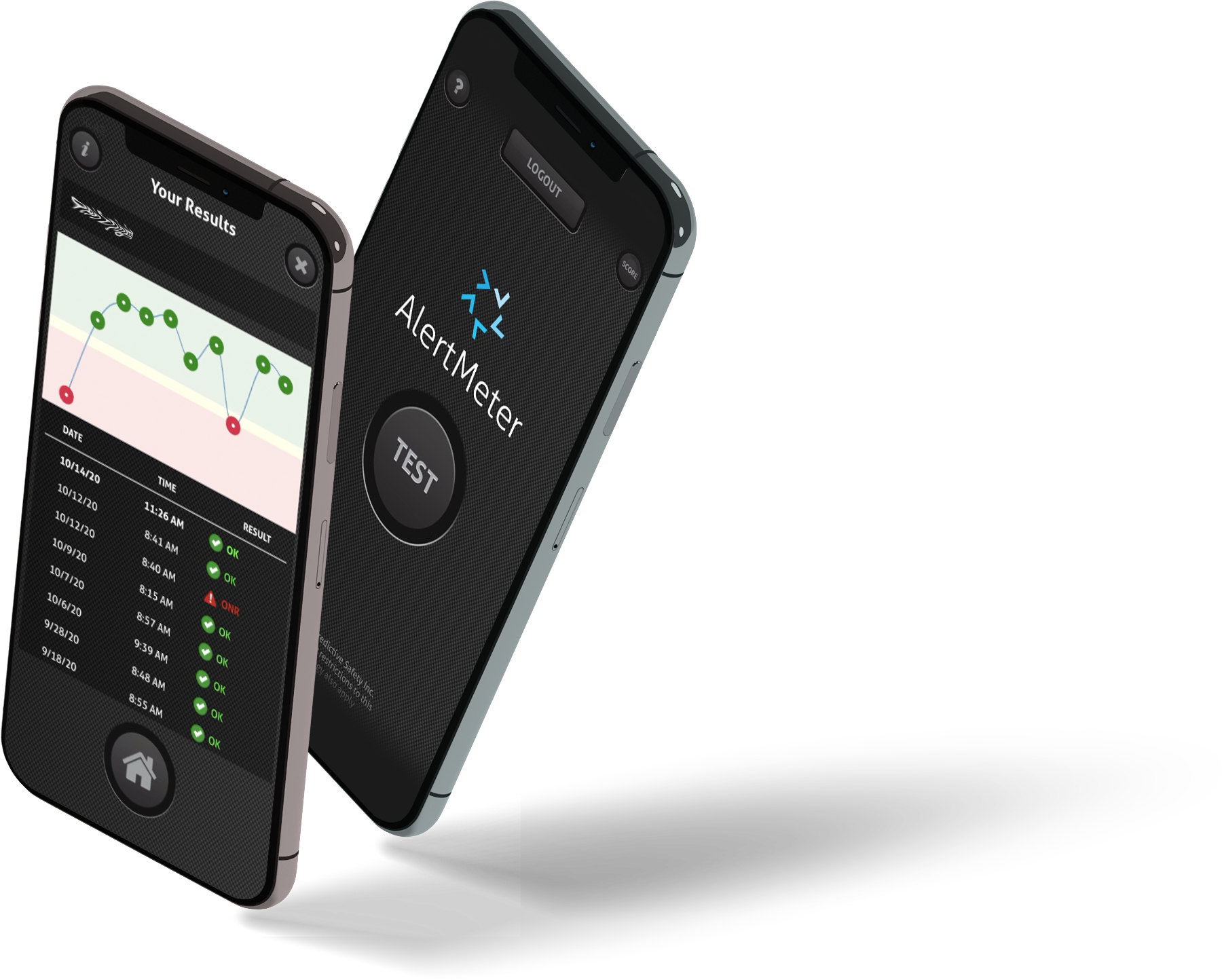 Discover How Your Company Can Manage Fatigue & Impairment Risk With AlertMeter®