Descom Recommends PRISM Fatigue Management with AlertMeter®
Putting the power of prediction to work:
Accurately predict when workers will become dangerously fatigued
Identify impaired workers in under 60 seconds
Reduce your risk of accidents and errors
Protect your company's reputation and bottom line
Start Reducing Your Risk Today
Submit the form below to receive more information on this cost-saving, cost-effective, fatigue management and impairment testing software.
Descom Recommends PRISM Fatigue Management with AlertMeter®
Putting the power of prediction to work:
Accurately predict when workers will become dangerously fatigued
Identify impaired workers in under 60 seconds
Reduce your risk of accidents and errors
Protect your company's reputation and bottom line
Start Reducing Your Risk Today
Submit the form below to receive more information on this cost-saving, cost-effective, impairment testing software.



AlertMeter®
Accurately Assess If a Worker is Impaired in Real-Time Due to Any Cause

Quick, 60-Second Test Can Easily Be Performed Any Time, Any Place

Game-Like Interface Utilizes Worker-Derived Algorithm and Can't Be Cheated

Objective Results Open Opportunities for Productive Conversations & Create a Collaborative Safety Culture

PRISM™
See Fatigue Interpreted as Objective Data Giving Supervisors the Ability to Predict, in Real-Time, When Fatigue Progresses to Risk 

Empowers Workers and Supervisors to Engage Time-Efficient and Effective Countermeasures

Demonstrated to Have a High Level of Worker Confidence and Uptake Helping to Create a Culture of Safety

May Be Used with AlertMeter® to Provide Individual Fatigue & Impairment Status  
Software to Make Your Business Safer and More Productive
AlertMeter ® is a 60-second graphics-based test developed under the guidance of NIOSH. Used on any device, it measures an individual's cognitive alertness and compares their score to their own personal baseline.
Language-independent and easy to use, this simple app:
Empowers your employees to self-manage fatigue
Automatically messages supervisors or managers in escalated circumstances
Provides supervisors with the ability to objectively identify and manage at-risk workers
Easy to implement. Easy to use.
Works on iOS and Android Devices
Access via Individual or Centralized Devices
Don't just wait for another workplace accident.
Activate the power of data-driven, predictive, prevention.
Research indicates that working 12 hours per day is associated with a 37% increased risk of injury.
At Predictive Safety, we believe that risk can be measured, safety can be quantified, and hazards can be managed and mitigated. We created AlertMeter® to provide companies large and small, across a wide variety of work environments, with a reliable, objective, cost-effective tool to assess real-time impairment and fatigue, and in some cases, provided an innovative alternative to drug testing.
AlertMeter measures a person's cognitive alertness with a 60-second image-driven test taken from a handheld device. Here's what it does:
Build individual profiles:

 

A baseline reaction time profile for each employee
Ongoing alertness tracking:

 

Tracks trends in alertness, scanning for deviations
Clock-in alertness test:

 

A 60-second test at clock-in ensuring they're alert and ready for work
Automatic alerts:

 

Automatic alerts to supervisors  s

hould an employee prove too impaired to work
Increased risk when working 12 hours
Preventable workplace accidents
See the AlertMeter in Action
Review case studies from industries like yours.
Transportation & Logistics
Performance data collected over six months of AlertMeter® use demonstrated its effectiveness in ensuring fitness-for-duty among truck drivers.
AlertMeter® provided company owners a way to test for fitness-for-work while maintaining fairness for employees.
At a major company in a high-risk industry, three work sites were measured and compared. One of the sites used AlertMeter®.
Vforge, Inc. management shares how AlertMeter® has reduced incidents and Workers Comp costs and created a Culture of Safety.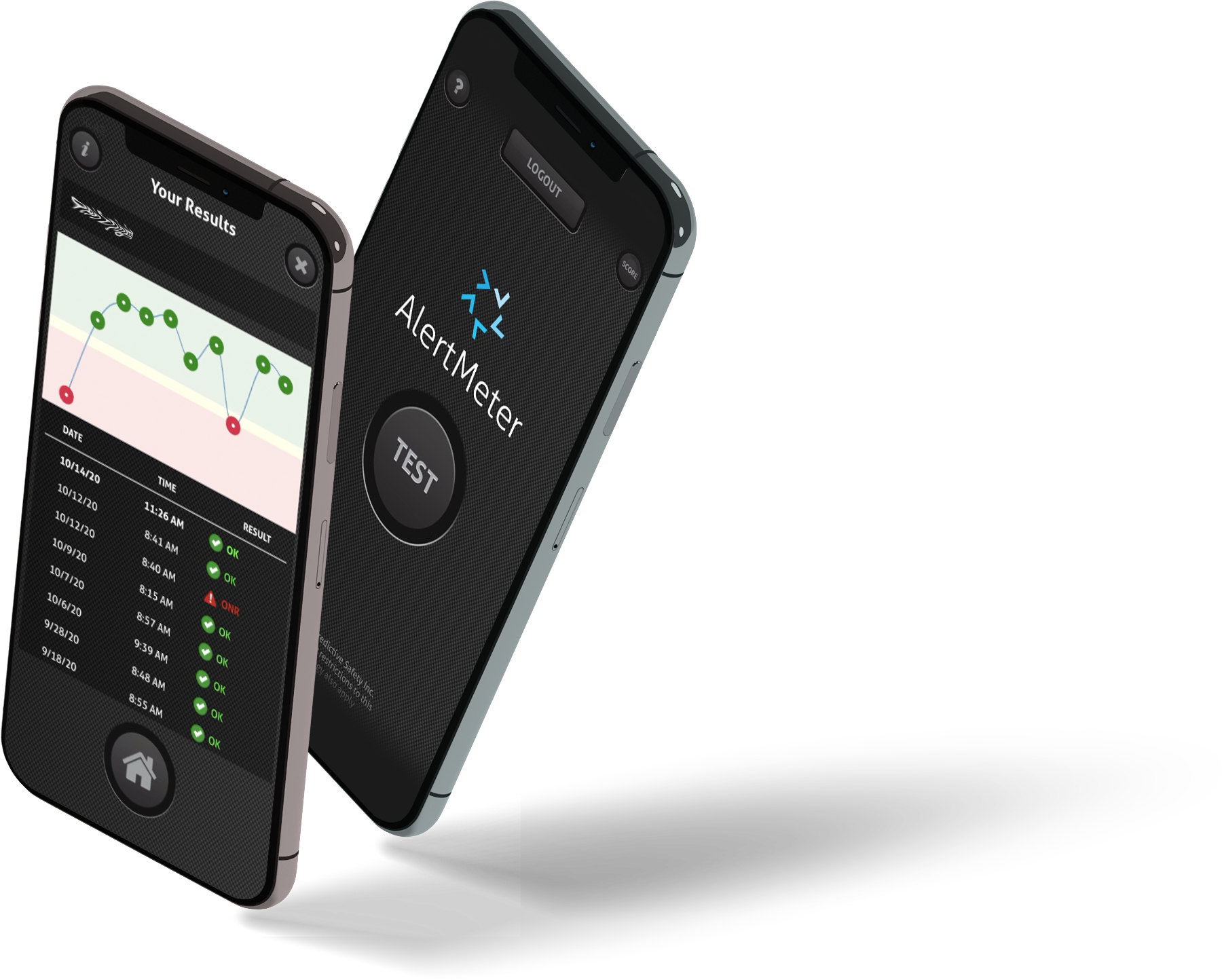 Discover How Your Company Can Save With AlertMeter®